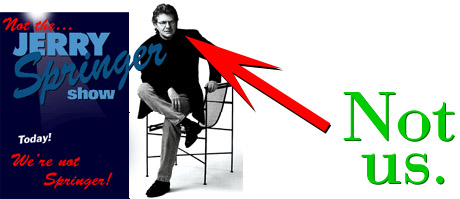 Read our insults, from people with less of a life than me!
---


Date: Thu, 04 Nov 1999 11:30:50 -0800
From: [deleted]@vt.edu
Subject: the email list

ha ha ... why can they not see that jerry.com is being used for a much
better purpose than if it was a jerry springer website??  they're all blind!
but you will show us the way!!  lead on, master!! all praise to the
Webmaster and may his glory be hailed upon high for years to come!

This kid has a special place in my heart.
---


Date: Wed, 03 Nov 1999 10:33:19 -0500
From: [deleted]@hbs.edu
Organization: Harvard Business School
Subject: Why, oh why, must we endure these people...?

Hey there,

I haven't laughed this hard in quite some time. The quality of some of
the english used by your attackers is laughable at best, reprehensible
at worst. As is the "logic" behind their flames. Imagine that only one
man in this world of some 4 billion (there could be more, I'm just
guessing) people could ever be named Jerry. You guys just got to the
domain name before he could!

Regardless, you've brightened up my morning and I applaud your tenacity
and sarcastic wit (as well as your attempts to answer your rude e-mails
with as much politeness as you can muster).

To all Jerry Springer fans who feel distraught that they can't use a
search engine and are too lazy to think for themselves - lighten up!
It's only a television show!

"Only" a television show, he says. Poor deluded fool.
---

From: [deleted]@skypoint.com
Subject: That Jerry Springer lookalike site...
Date: Thu, 21 Oct 1999 14:50:54 -0500

Too [the beeeep thing] funny, keep it up, it's a refreshing diversion!

It's kind of scary, those people actually defending a pretty much pointless
TV show by calling your site pointless--makes the droid references almost
chilling. Why anyone would want to live vicariously is beyond me (even tho
I'm doing it a bit here...)

BaaaaaaHAAAhaHAHAAHAHahahaahAHa.... Live it up sheep! It's a free country,
learn to appreciate the humor in this website!

Edge

P.S. Like the chex.


---


Date: Wed, 20 Oct 1999 13:29:26 -0700
From: [deleted]@unx.berkeley.edu
Subject: My thoughts

Dear Webmaster:

I spend a lot of time on the web, but I must confess that today was the
first time that I took out a moment to read e-mail posted by surfers
related to a particular issue (your domain name).

If the e-mail that I have just read on your site is in any way a
reflection of the majority of the U.S. population, I am truly terrified!
I personally enjoy an occasional Springer episode for kicks. Somehow, my
naivete allowed me to imagine that the usual guests were some rare
strain of humanoid that occasional came into contact with the rest of
the general population. Well now I know… they also have computers! Which
leads me to believe that there may be far more of these creatures
roaming the earth than I first imagined.  The future  doesn't look so
good anymore.

On the other hand, I do find it redeeming that you can at least find
simple pleasure in the unfortunate ( and hopfully temporarry ) state of
mind of some of the people that take out the time to actually think,
write and send some of their thoughts to you.  It seems that you have
found a way to extract something positive from the whole thing. Keep it
up, as long as that holds true.

Finally, for the record: I could care less what domain name you or any
other webmaster uses. It's not my web site is it?

Good Luck!

[deleted]
Berkeley, California


---

Date: Thu, 19 Nov 1998 21:07:02 -0500
From: [deleted]@pop.scescape.net
Organization: retired
To: webmaster@slac.com
Subject: THANKS ! YOU GUYS SEEM JIGGY!
Status: RO

HI! THEY CALL ME THE "BIG DAWG" (UNIVERSITY OF GEORGIA FAME)...FORMER
RADIO/TV DUDE AND MARTIAL ARTS SENSEI AND SOMETIME  "SKIP-TRACER".
THANKS  FOR PROVIDING THE DOMAIN FOR THAT PIECE OF TRASH, SPRINGER; I
ENJOY WATCHING A GUY THAT I LOVE TO HATE. BEST REGARDS AND THANKS AGAIN,
BUT BE  STRAIGHT WITH ME-

---
7

From: [deleted]@aol.com
Date: Tue, 17 Nov 1998 23:47:48 EST
To: webmaster@slac.com
Mime-Version: 1.0
Subject: F***ing awesome
Status: RO

It's about time someone who is not completely obsessed with the beloved "jerry
springer" gives you guys a complement for putting up with all the bitching
these people do.It totally amazes me that so many people actually give a 
[the beeeeeeep thing]. Good job guys! (I think that posting the email is great , 
that way when "Jerry" goes "out" just like the 80's they can come back and see 
how much they suck)

---

From: [deleted]@webtv.net
Date: Mon, 16 Nov 1998 10:43:43 -0500 (EST)
To: webmaster@slac.com
Subject: THE X-FACTOR

Who cares? Jerry is just another way for the teen generation x-ers to
get a laugh and have fun. It's not even a talk show, it's a freak show.
We had our share of wild and craziness in our days (me being the big 30
now), why not let them have their fun. Anyway whatever it is, even if
Jerry isn't high on your list, you don't have to watch him, turn the
t.v. off or change the channel. Regardless of what people do, they are
going to ave to deal with him for another 5 years, because he just
signed on for another 5-year contract. As far as your web site, if you
want to have a jerry.com, it's your right. Personaly I already knew the
web site was www.getjerry.com, all you have to do people who criticize
slac.com, it get your lazy fingers to type www.yahoo.com, look up jerry
springer, and Viola!, you'd see that this isn't his website at all. Give
these people a break.

---

From: [deleted]@aol.com
Date: Thu, 5 Nov 1998 19:50:50 EST
To: webmaster@slac.com
Subject: To the people of "www.jerry.com"

Hi I think this site is pretty cool, I wasn't looking for springer, 
I just stumbled upon this site of yours. I understand that you hear 
from a lot of [the beeeeeeep thing] who have no common since and 
keep trying to reach springer over and over again threw your site..
I would like if you dont mind, to have this message put on this page...
"ALL OF THE YOU DUMB BRAINED PEOPLE NEED TO QUIT HASTELING THESE 
PEOPLE ABOUT THE JERRY SPRINGER SHOW>>HAVE SOME DAMB COMMON 
SINCE, AND TRY A DIFFERENT WEB SITE IF YOU WANT THE SPRINGER 
SHOW!!!

I like "dumb brained."
---

Date: Fri, 30 Oct 1998 08:44:26 -0500
From: [deleted]
To: webmaster@slac.com
Subject: Stumbled in...

Yes,
I was looking at ISP's of people who visit my website and came stumblin' into 
this one looking around. I'm extremely pleased with your advice to idiots who 
can't reason or possibly read. You have to take into consideration that thousands 
of people use this media to vent their frustrations in alter ego fashion and 
atempt to be experts in something or another. I have some of the most well 
defined illiterates make comments about my page weekly and are simply an 
underclass of computer users who haven't settled into their new found 
therapy with some dignity as of yet.
REMEMBER MY SAYING AND VISIT MY PAGE to see what pisses people off my style.
SAYING: The difference between stupidity and genius is that genius has limits.
http://narfestus.home.mindspring.com

I don't think either genius or ignorance are divisble by zero, though.
---

Date: Thu 4/2/98 8:30 PM
Subject: Jerry vs. Slac.com

First of all, what the hell is wrong with Joe's car?  The same fools who
deride it then praise Mr. (and I use this term loosely) Springer are
hypocritically avoiding the issue they share - freedom of expression!!!

Next, to those who crack bad on this page should realize that they are
guests and that the privilege of visiting can, if we are all LUCKY, can
be revoked!!!

Lastly, as a new visitor to the page, but hardly to the "antics" of its
creator, I advise those who foolishly mouth off, belying their
psuedo-intellectual claims, beware the WRATH of the Creator (of this
page) 
:)

This individual's comments about Jerry Springer are his own opinion, and
may not represent the management of slac.com. 
---
Date: Sat 3/28/98 2:53 AM
Subject: this is the funny's page ive ever seen!!

Whoever wrote this is very smart and worthy of praise!!!!!!
     
Im in stitches!

---
Date: Thu 3/26/98 4:11 PM
Subject: No Subject

thanks for giving the CORRECT website for springer.  people shouldn't get so
hostile.  if they REALLY watched springer, they would have known what the
right page should have been, therefore making it the viewer's error.
thanks again!!!

---
From: [deleted]@aol.com
Date: Thu 3/26/98 2:59 AM
Subject: insults...

I think you have a perfectly fine site.  You offer a courtesy that most
wouldn't.  As for the insults you have received, [the beeeeeeep thing] 'em.

---
Date: Fri 3/27/98 1:54 AM
Subject: Encouragement

Your Page of Other Illiterates was most humorous, and exposes the idiots
who write you for exactly what they are:  incompetent, foolish,
rednecks, who, based on their spelling and  grammatical abilities, never
attended school and spend most of their days sitting in their trailers
watching "Springer."
    The rest of your site is quite nice and well designed, despite what
the fellow from "one of the most respected schools in the midwest"
said.  The entire context in relation to "Springer" is highly amusing,
although I'm sure from your point, dealing with rednecks typing on
computers that their Cousin Bubba took from the local library, becomes
highly annoying, particularly when, as you said, "Please!  If we are not
who you want us to be and that makes you angry," people respond because
they are angry about the fact that they were too incompetent to find the
page they were looking for.  Just a message of encouragement, among the
flames of the trailer trash and the bizarre theories of your "jealous"
over the popularity of the "Springer" show as described by some nut case
at a mid-western university.
---

Date: Mon, 06 Apr 1998 11:30:47 -0700
Organization: Peel Board of Education
Subject: hoy hoy

hoy hoy, what's ya'll? don't know how i got here but have a nice day.

---

Date: Wed, 08 Apr 1998 13:38:26 -0400
Subject: Plain and simple...

I love your site.  Too bad that people strike out at you because they
can't get their Springer fix, which as I have been told, is been told to
"Tone it down".  Prepare, my friends, for an onslaught of angry
netizens.  They blamed you for everything else, why not this?  Thanks
gents.

---

Date: Wed, 08 Apr 1998 10:45:55 -0400
Subject: mr. or ms. prestigioius

Odd that someone attending such a prestigious, difficult, and excellent
school would not be able to use English grammar, such as "to whom it may
concern" and "yours" without an apostrophe.  I believe he or she also
meant to say that she took "personal" offense, not "personnal."  Too bad
this person apparently never goes to class, or the insults would be much
more effective!

---

Date: Wed, 8 Apr 1998 09:37:44 -0700 (PDT)
To: webmaster@slac.com

Yes I am another one who was looking for Jerry Springer, somebody told
me it was Jerry.com I see it is not but i'm not like all of these
[the beeeeeeep thing] who send you some pretty stupid [the beeeeeeep thing]!  
I love that one about the midwest college (prestigious, yeah right) and the 
other email from the guy who runs all his words together and says something 
about, "get it to getter"  I don't think your site is bad, I think it 
unfortunate that you have to put up with all the crazed springer fans 
harrassing you, but it must get quite amusing to see what is waiting in your
email box next huh?  Well good luck with your site, 

---

Date: Mon, 23 Mar 1998 08:59:50 -0500
Subject: The prestigious guy

I challenge the guy who says he's attending a prestigious midwest college
to reveal where he goes to school.  As far as I know, there are no
prestigious colleges in the midwest.  Maybe he's getting "prestigious" and
"pretentious" confused.  To me, this whole thing is preposterous.  I am
imagining college dorms full of students watching Jerry Springer, and
spending the remainder of their free time searching the net in vain for the
Jerry Springer website.

---
Do you want to add to this list? Email us.